STOCK MEAL FEEDING SYSTEMS​
Permbrand offers meal feeding systems, grain milling equipment, grain storage, molasses feeding systems, and mineral delivery systems for new and existing dairy sheds (rotary and herringbone), piggeries and poultry farms.
Meal feeding has become very popular with dairy farmers as they understand the need to feed their cows high energy feed to increase production, weight, and help cows cycle. Meal feeding in the shed achieves this and also is cost effective with the system ensuring full control of feed delivery, no extra labour needed; cows are fed automatically with the push of a button while they are producing milk into the vat.
ROLLER MILL​
The LPE Roller Mill offers a superior grain roller solution for your farm. With easily adjustable, long life rollers the roller mill will produce an excellent quality sample and will perform reliably for longer than other mills.
Benefits
Feeding cows on rolled grains is more effective for digestion.
Rollers fabricated from specially formulated cast iron which are longer lasting.
Sturdy and built to last.
Parts on hand immediately if needed.
All moving parts can be greased, oiled with ease and safety. Easily adjusted roller tension with large tension springs.
Rolls 5.5 to 7 ton of grain per hour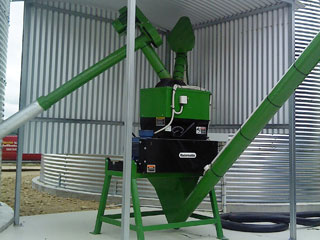 Permbrand Min Bin
The Permbrand 'Min-Bin' was developed for the transfer of Pellets that arrive on farm in one ton bags. CP Lime Solutions came to us with their new product 'Vitalise,' a pallet supplement. They needed an accurate way of getting the product into each cow at milking. The advantages of this are many. As the rate is very low, it's important to match and supply the correct components to provide a ready to go system that can be retrofitted into any shed.
We like to visit the shed and see what we are up against first. Most sheds are very straight forward, but if the original feed system is another brand we do need to check it out to provide our installers with the correct components.
Features:
1500L / Hopper
Sliding water proof lid
Duragalv support stand
FA55 coreless auger .75Kw motor and variable speed drive.
Compatible with Animal Herd Management Systems
Pke/Pellet Silo
Features:
60 degree free standing silo 36 tonne capacity
Fluidisers
Coreless auger line into shed
Stainless steel blow tubes
Pke/Pellet Silo
Stainless steel blow tubes into  palm kernel/grain silo
100 mm diameter
Camlock fittings
Molasses Systems
Air diaphragm pump, 25,000 litre tanks
Pke/Pellet Silo
Permbrand has introduced a maintenance programme put in place for checking the milling equipment. To date the majority of breakdowns have been caused by lack of lubrication and failing to keep the chains tight. Some mills are putting through large quantities of product and require maintenance more frequently.
The feedback from those partaking in this programme has been very positive and it has also kept breakdowns to a minimum in most places.
We have a maintenance technician in each area once a month; we will endeavour to have the same technician each time. He will phone before a visit to let you know the day he will visit and to check that there is no other issues that need attended to during the visit.
A comprehensive check list is used and followed. A copy will be left at a designated place after a visit. Another copy will be forwarded with the invoice at the end of the month.
A fee of $ 250 + GST will apply for each visit which will include completion of the checklist, running the equipment and checking the sample. The fee will also cover travel and travelling time.
After the warranty period any parts required and labour in fitting them will be charged. 
Please contact us if you would like further information or register to join the programme.